Swept
2015
dimensions variable: 9 ft x 6 ft x 9 ft;
sod, push broom, electrical cords, gear motor, aluminum, wood, inkjet print, acrylic
Fabrication 1
2015
27 in x 34 in x 4 in
digital print on corrugated plastic, foam, tar, aluminum, tubing, linoleum, electrical cord, silk flower stems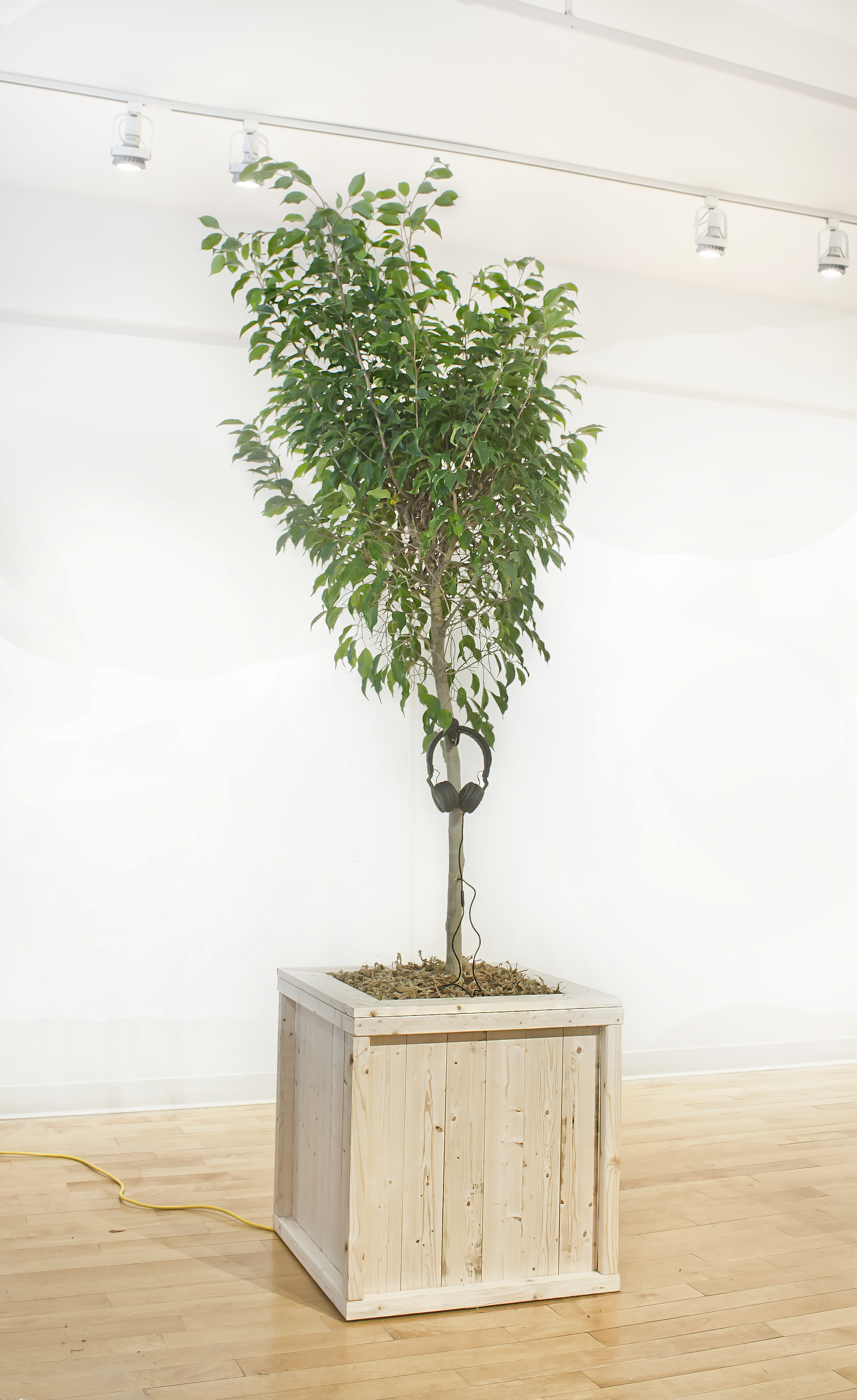 Confer
2015
8 ft x 2 ft x 2 ft
Ficus tree, head phones, wood, hook, media player, extension cord, mulch
The headphones hang on the tree and invite the viewer to listen. The sound is composed of recordings taken while drilling the holes in the tree's trunk and threading the headphone's cord through.
Fabrication 3
2015
12inx 14 in x 3 in
Artificial greenery, foam, aluminum, digital print, and vinyl
From Here to There as Place (Readings from Alexander Wilson)
Single channel video: 4 min 31 sec
This video was recorded from the inside of a car driving on the Blue Ridge Parkway between Tennessee and North Carolina. This work layers footage taken from multiple passenger. Some of the clips are reversed and the duration is altered. During the drive the narrator reads sections from Alexander Wilson's book "The Culture of Nature" that reference the controversial construction of the road.
Fabrication 2
2015
27 in x 34 in x 4 in
Digital print on corrugated plastic, tar, aluminum, vinyl, linoleum, silk flower stems
Fabrication 4
2015
1 ft x 5 ft x 4 in
Artificial greenery, foam, digital print, foil, tubing
Honesty Killed the Cat
2015
6 ft x 3 ft x 1 ft
Aluminum, EL wire, inkjet print, Arduino microcontroller, servos, chain, wood
"Honesty killed the cat" is stitched through the aluminum with EL wire. Servo motors pull the sign's chains causing it to sway back and forth within radius of a few inches.